Born Canberra, lives and works between Brisbane and London.
Jenna is a mixed race Larrakia, Wardaman and Karajarri woman whose contemporary art practice explores the acts of identity/identification, label/labelling and the relationships formed between language, label and object. Being a Queer, Mixed Race, Asian (Japanese, Chinese and Filipino), Aboriginal Woman, Jenna's practice is strongly influenced by her overlapping identities, childhood memory as well as maternal teachings of subject and process.
As an interdisciplinary artist, her work incorporates painting, printmaking, found object and sculpture with a reoccurring use of paper, the book, language and text. Recent work explores the transformation of the printed word through the ritualistic acts of destruction and reconstruction, seeking to translate the page into a new tangible language. New experimental works created by Lee further explore these themes through animation and moving image.
With mixed ancestry running alongside many events in history directly leading to the presence and resilience of both Asian and Aboriginal people in Australia, Lee's current area of artistic research revolves around ancestral cultural objects as well as interdisciplinary cross cultural practices which aim to rewrite the telling of Asian and Aboriginal narratives in Australia.
Lee is the recipient of the 2019 Australia Council Young and Emerging Dreaming Award, presented at the National Indigenous Arts Awards in May as well as one of 10 finalists in the prestigious John Fries Award for emerging and early career Australian and New Zealander artists. In 2018 Jenna was a finalist in the 35th Telstra National Aboriginal and Torres Strait Islander Art Award (NATSIAA) as well a finalist in the 2018 Blacktown Art Prize. In 2018, Jenna won the tertiary category in the Libris Artist Book Prize for her the loose-leaf artist book 'A Plant in the Wrong Place'.
Lee holds a Bachelor of Visual Communication Design as well as a deferred Bachelor of Fine Art from the Queensland College of Art Griffith University and a Graduate Certificate in Museum Studies from the University of Queensland.
Formally trained as a graphic designer, she continues to work as an independent designer specialising in exhibition identity and catalogue design. Finding great joy in working collaboratively with curators and artist allowing overlaying passions of typesetting, design and art to collide.
For the past five years, Lee has continued to work commercially as the Senior Artist and Designer at
Gilimbaa Creative Agency
. With her commercial work exploring ways of preserving, exploring and expressing Aboriginal cultural practices through commissioned work for clients such as QANTAS, Gold Coast Commonwealth Games, Queensland Police Service and Microsoft.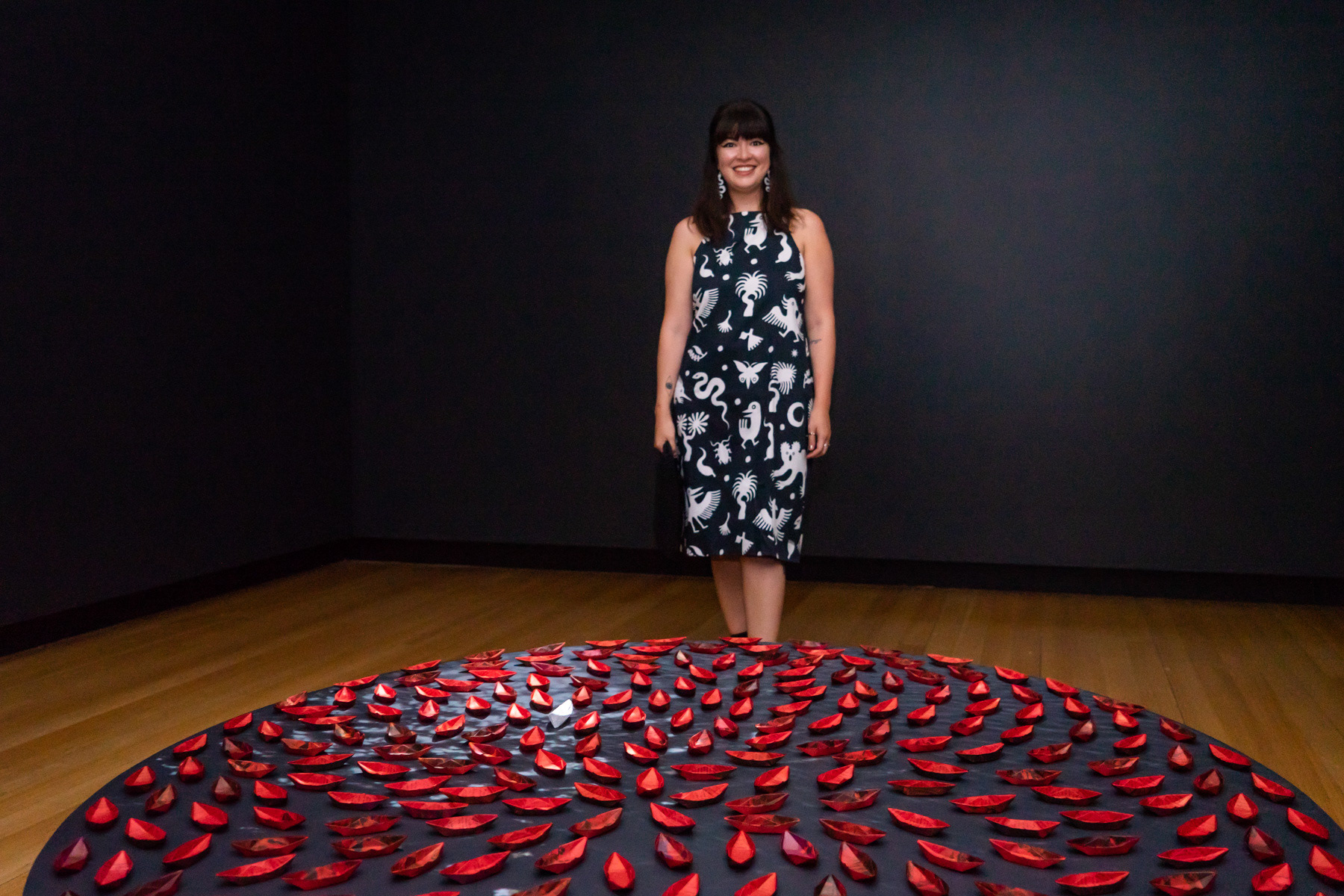 Image: Jenna Lee, Rite of Passage, QUT Art Museum
Credit: Louis Lim